I'm linking up with the lovely
Impulsive Addict
,
Shawn
,
Janette
and
Mamarazzi
again this week for their new meme, We Want to Know Wednesday.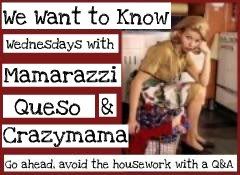 This week IA as provided the questions...let's get to it!
1. If money didn't matter, where would your perfect vacation take place? Briefly describe.
I would love to go to England, Scotland, Ireland and France. I just want to see everything, ya know? Everything that makes those places...well,
those
places. I would also like to go to Australia and Italy.
And I wanna be a princess.
2. What's a bad habit that you have (or had) that is/was hard to break?
Oh dear baby Jesus, this one is a challenge every day. And that is eating healthy and not porking out on whatever is in sight. But more specifically I would say my addiction to pop. Soda. Whatever. Diet Coke was my main fix and Diet Pepsi a close second. I stopped drinking it so much last April when I decided to eat better.
And I wanna be a princess.
3. If you weren't on a diet or counting calories, what would you like to have for dinner tonight?
Nachos. No, Chinese food. Nope. Wait a sec...Mexican food. No. Hold on. Cake. Yes, cake. Wait! No. Ice cream? Yeah. All of that.
And I wanna be a princess.
4. If you had the chance to interview anyone in the world, dead or alive, who would it be and what's one question that you would ask?
I would interview Jesus. I would ask him, "why." Because that is the question to ask Jesus, right? I would also ask Him if I'm gonna go to heaven and could He use His godly powers to give me a British accent
and
can I be a princess.
5. Describe yourself in 6 words.
Funny. Smart. Irritating. Indecisive.
Drunk.
Rambler.
And can I be a
Princess.
So...what are your answers??