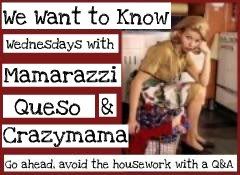 This week I'm linking up again for the WWTK Wednesday hosted by Janette, Shawn, Mamarazzi and Impulsive Addict.
This week's questions are brought to us by the letters I and A. (meaning impulsive addict...get it? duh. sesame street 101 there. okay, i bet i didn't need to spell that out for ya, which makes this whole sentence entirely lameballs. sorry.)
1). If the blogging world had a talent show, what would your act be?
Umm...I dunno? Like if we had an actual contest where we were all in the same room? In that case it would be talking the most about poop and boogers and farts. If it's an online blog thing? In that case it would be talking the most about poop and boogers and farts.
2). What's the most likely reason you might become famous?
Oh, this is a sad one. I would most likely become famous for something really stupid, embarrassing or illegal. Like shoplifting Monistat from Walmart or flipping off a cop.
Possibly getting irate with another driver and going Tonya Harding on their ass.
Maybe even public disturbance or shooting my neighbor.
Yeah. My neck is red. What color's yours?
3). What question are you repeatedly asked that you are tired of hearing?
Probably the one I get every day. I'm either asking myself or my husband is asking me, "What's for dinner?"
I also get a lot of the, "Do you actually live in France?" question. That's my fault though.
But just in case, for anyone who's new or forgot: No. I don't live in France. No. I have never lived in France. No. I don't want to live in France. It's a punny play on my name.
4.) What's the last thing you broke?
The bank? Hahahahaha. No, maybe not. Um? Oh. I know. A famous guy's heart. I can't tell you who, to protect the innocent, ya know. Wink wink. Gah, I'm so lame. Oh! I know! I broke the needle on my sewing machine. Okay, I didn't really break it, it just broke by itself. It could have been cuz I was ranking on it like a horse's ass though...
5.) Finish this sentence. I can't believe I used to ________.
Shave my legs every day. Paint my nails every other day. Use Aquanet by the gallon. Try my damnedest to get my bangs at least 2 inches of height. (never worked for me; maybe that's good.) Look at parents before I had kids and think, "I would never...[fill in the blank.]
So did you play this week?