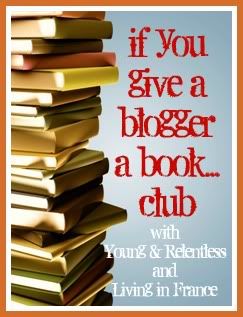 Get it? It's a clever twist on the title of the childrens book, "If You Give A Mouse A Cookie." Cute, right?
Well, I
am
a genius! Okay, fine, it wasn't me, it was
Connie at The Young and the Relentless.
This whole thing was her brain child and I have to say, it's genius.
See,
bff
and I had a book club once. Remember
this
? If you check the date of the last time we posted...well, it's embarrassing. The thing was, it was too much work coming up with time to post every week at least twice a week featuring the books and fellow readers, discussing the plot, going through each chapter, blah blah blah.
So. Connie came up with this great idea that we could have a book club that is for us, as bloggers, and pretty much anyone who has a FB account, because that's where most of the discussion will take place. Our
Facebook Group!
We also have a
blog
where we will sometimes post, but the party is mostly going to be on FB. We are going to rule social media! Twitter? Yes, please.
Here we are!
Connie and I will both do updates periodically on our blogs or the book club blog letting you all know what books we are reading or letting you choose with a poll, possibly. Probably. I think we decided that. Yep. I'm gonna say we did.
Without further ado, here is our first book!
I got my copy at Target for $12. Check your library, too. You will have 6 whole weeks to read this beauty before we announce and begin the next one.
But there's a bonus! Want a chance to win one??
Connie
is giving one away! You just never know when I might decide to be generous too...be on the look out for random giveaways (of our current selections) on the blog or FB...maybe even twitter!
So. Who's in?
PS: Wanna see who won the #RE2011 giveaway? Go visit
Emmy!