When I showed you my
room reveal
I mentioned that I did some toilet paper wall art.
First I rounded up all of my toilet paper rolls and a paper towel roll or two.
Cut em into about 1 inch wide strips.
Painted them all black on the outside and either white or gray inside and squeeze them to be the
shape of an eye.
Lay them out on a flat surface in the design you're thinking you want.
Take your glue gun and put a bead on the bottom of your cardboard "eye" and put it firmly onto the surface of your artwork frame, canvas, whatever you're using.
I used an interesting "technique" to "frame" this art. I found a piece of cardboard that I had saved in the garage (because I save everything like that, just in case, ya know.) and the black plastic framing pieces from another piece I had had a craft fail with year or so ago.
I had bought 2 standard size pillow cases in that teal color to match the room just in case I needed them. I stuck the cardboard inside the case and trimmed the case to fit the cardboard. Added the black frame edges and hot glued the rolls onto the pillow case fabric.
This art cost me...ZERO. And I love that.
I referred to this tutorial to get the idea of what I'd need to do, it was very helpful!
notice those shimmery lines? that's the hot glue. i was too excited to get a picture for you and took those strips off after i did the picture.
Linking with: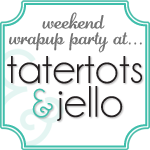 ps: i plan on doing more of this. i can never throw out another empty tp roll again. you don't want to know how many i have hoarded in my craft supplies now!